There's been a change to the way United Airlines prices award tickets.
Instead of writing an e-mail detailing the changes to every client, this post is going to cover the details.
In the past, when you searched United.com for an award ticket, you would enter your origin, destination, and desired travel dates. This would return the availability of saver and standard level redemption, which I'll call the "automated search." This search does not exhaust all possible combinations that is permitted within the routing rules of United Airlines.
This is where our frequent flyer mile redemption service comes in. If no workable flights appear from the automated search, we could find segments and customize a workable itinerary and book it online using the multi-city search function or with a phone agent. In the past, the mileage requirement for this option would price out to the same as if you did an automated search given that no routing rules were violated.
However, change is always guaranteed in life.
In the world of frequent flyer miles, changes are usually for the worse.
Now, whenever you attempt to book an award ticket using the multi-city search or over the phone with the agent, the mileage required for a redemption will always be higher because it will price out per segment.
EXAMPLE
In the simplest example, lets take a one-way trip from JFK to BKK. There are no direct flights so a connection is required in Europe or in North Asia.
Using the automate search, the following results appear for travel on 10/20.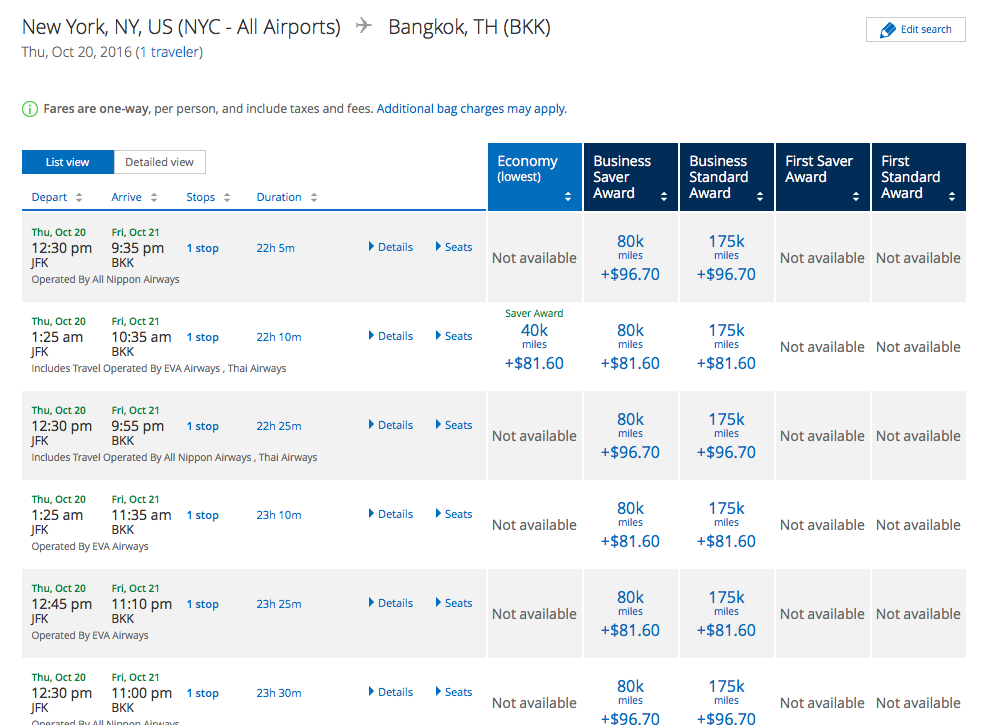 Selecting the first option, JFK to BKK via NRT results in this for 80k one-way per passenger, which the result I would expect.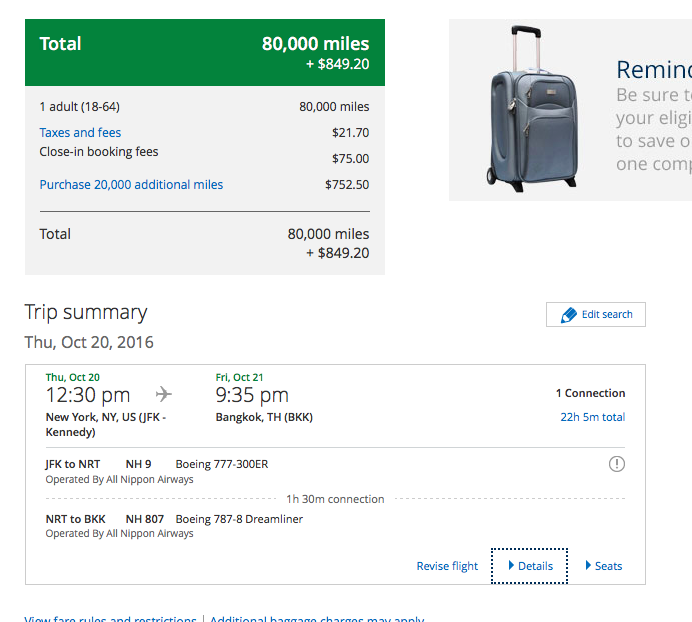 However, if we use the multi-city search and try to book the same flights, it prices out to 115k for a North America to North Asia and a North Asia to South Asia redemption, which correlates to the 75k and 40k respectively.
At the surface this appears to be a glitch, but several sources has confirmed that this is not a glitch and a new feature of United.com award booking engine. United's Mileage Plus site explains this and attempts to mask the change as a positive change. To the uninformed consumer, the change seems confusing to grasp and it is. For a seasoned experts who've redeemed millions of miles, the change is a major downgrade.
HOW THIS AFFECTS YOU
For trips to Australia, for instance, if economy is the only option from LAX to SYD, we can no longer create a customized routing in business class from North America to Sydney via North Asia without increased in mileage requirements. So what United.com spits out from a query is the lowest mileage redemption available for booking.
In short, any customized itineraries will price out per segment.
HOW CAN WE STILL BE VALUE TO CLIENTS?
I think there are workarounds to get a multi-city option to price out as it did before. However, it's labor intensive and may not always work. I'm not going to elaborate on the workaround and have united airlines pick up and fix it. The frequent flyer mile game has always been a cat and mouse game and it will always be.
The best advice is to use your miles for a trip rather than saving them for a future trip. Frequent flyer miles is monopoly money where the airlines can change the rules anytime and in many cases without advance notice.