The Maldives, Seychelles, and Mauritius offer some of the most exceptional tropical vacation experiences in the world.  Having recently completed visits to each,  here's a closer look at the similarities and differences between the three.
Seychelles
While the Seychelles might be on the top of every luxury beach destination list, it's oh so much more.   This quaint, authentic, and breathtakingly beautiful collection of islands offers something for every type of traveler.  Accommodations range from ultra luxurious resorts to rooms in locally hosted guest houses.
If you go to the the Seychelles without visiting any of the outlying islands, you will have missed out on a big part of the charm of this Indian Ocean paradise.  My trip began with a guest house stay on the second largest island, Praslin.  Getting there is quite easy from the main island of Mahe, with options by either ferry or plane.  Flights are 45 minutes and the price is about the same as the ferry.
I arranged for a car for the duration of my three day stay, since public transportation on the small island is fairly infrequent and unreliable.   The roads are well maintained, though very narrow, and mostly shoulder-less.  It was a little hairy driving around, though nice to have the freedom to explore.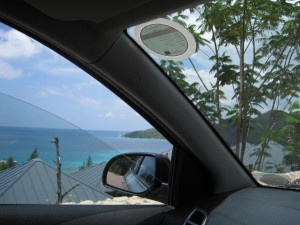 The island is sleepy, stunning, and full of wonderful local creole people with big smiles and happy dispositions.  The owner of the guest house I had booked had mistakenly double booked my room, but without batting an eye, got on the phone and secured me other accommodation at the same discounted price.  Quite typical of the treatment from the warm and welcoming locals I encountered.
There are white sand beaches as far as you can see, with few tourists.  Just a lot of friendly and helpful locals.
From Praslin, you can take a 45 minute ferry for a day trip to another must see island, La Digue.  With only 2000 full time residents, and no cars, visitors and locals get around this small island by bike or even oxen drawn cart!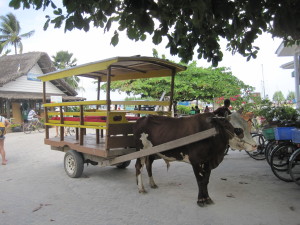 There are a lot of locally run guest houses, and a few luxury properties.  Of the three islands I visited, this was my favorite by far.  I loved the slow pace,  local feel, and unspoiled, pristine beauty everywhere.
No visit to the Seychelles is complete without spending some time on the main island of Mahe.  I had originally reserved a rental car for the duration of my three day stay, but cancelled after discovering the not so foreigner- friendly driving conditions and abundance of reliable public transport on this island.  The $50 taxi ride to the hotel through traffic, winding mountain roads, and steep drop offs convinced me I made the right choice.
While there are some of the usual beach destination activities on offer around the island, most of the focus is on stays at exclusive luxury holiday resorts.  And there are plenty to choose from.  I chose a luxury resort for this part of the trip, using a combination of free night certificates and points for a stay at the Hilton Northolme.
One day I took the bus into the Victoria, the capital city, but beyond the central market, a few tourist trinket shops and other tour agencies, there's not much on offer.
Just down the hill from the Hilton is one of the most spectacular beaches on the island,  Beau Vallon beach.  There are also plenty of restaurants, dive shops, and several resorts.  I didn't get a chance to explore the entire island, but I can't imagine it getting much better than this.
I was in heaven in this magical tropical paradise.  You can't go wrong with a trip to the Seychelles.
Maldives
The Maldives isn't so much a single destination as a collection of many.  Made of 26 atolls and hundreds of islands, you'll likely have to jump through some hoops to get to your private island hideaway.  Resorts are scattered amongst the atolls, and most reside on private islands.  This makes for great underwater wildlife viewing, and uninterrupted relaxation on pristine, powdery white sand beaches.   For my stay, I chose the Conrad Rangali Island resort, using my Hilton Honors points for the four night stay at an otherwise $1000+ / night cost.  The resort is situated on two coral islands connected by a large walkway.  To get there, you'll need to take a 45 minute sea plane ride, which costs about $500 for the round trip, and is arranged for you by the resort.
The ride certainly isn't cheap, but the experience is pretty unique, and you'll get a bird's eye view of all the beautiful coral islands and some of the resorts residing on them.
I wasn't sure how I'd like being stuck on an island in the middle of the Indian ocean.  I'm typically a wanderer, and having no outlet to be able to explore was a concern.  This was not an issue at all since the two islands are big enough for some decent exploring, and there is a menu of off island activities to participate in like scuba diving, snorkeling, deserted island dining experiences, and even a cultural visit to a neighboring island inhabited only by local Maldivians.
Even if you never stepped foot off  the island, you'd still have plenty to keep busy.  There's a spa, several restaurants, a kids activity room, a full gym, and you will find a wifi signal on every inch of the resort.  If you are looking for a deserted beach to call your own, you can have that as well.
Each night there was an activity that all guests could participate in.  Some nights there was a movie under the stars, other nights it was specialty themed dining experiences.  It's worth noting that on a private island, you will not have a lot of alternate choices for these activities.   So prepare your wallet accordingly as nothing is cheap.
Mauritius
Of these three destinations, Mauritius will be the easiest on your budget.  Located east of Madagascar off the southern coast of Africa, this African island is the most populated and serves as host to the most number of annual visitors.  I've now been twice, with one stay in the north, and another on the western side of the island
Large volumes of tourists necessitate a wider variety of tourist activities, which are plentiful on this island.  Both resorts I stayed at offered lots of things to do, ranging from snorkel trips to sailing lessons.
There is also the opportunity to take half or full day island tours, and other excursions on small neighboring islands.  You won't run out of things to do on Mauritius.
The local public bus system while not glamorous, is cheap and reliable, and costs a little over a dollar a ride, depending on your destination.  The island is rather large, so it might be advisable to rent a car for a day or two, to do some exploring.  I had no trouble getting around on the bus, though I did hire a driver for a half day tour around the southern part of the island.
The island is beautiful with acres of sugar cane fields, tea plantations, waterfalls, cultural sites, and picture perfect volcanic mountain top vistas.
There is no shortage of breathtaking beauty on this island, though I found the beaches and water were not anywhere near as pristine and clear as either the Maldives or Seychelles.  Nor was the sea life very healthy or interesting in the places I snorkeled.
The sunsets, however, are stunning.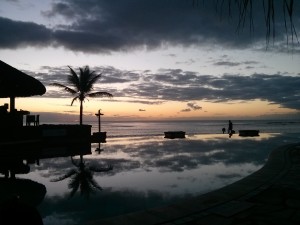 Which One Is Right For You?  I say get to all of them! But if you have to choose one …
Seychelles:  Offers a good mix of luxury, culture, and exploration, with options from budget to expensive.
Maldives:  Forced relaxation on remote private islands with beautiful coral reefs and beaches.  Perfect for adults only getaways.  The most expensive of the three.
Mauritius:  The most touristy.  Great for families, with a lot of water and cultural activities on offer.  Budgets will stretch the farthest on this island.
Which Indian Ocean island paradise was your favorite?