I built in a 2 night stopover in Seoul on my way to Vietnam. With the two nights in Seoul, I booked myself on points at the Park Hyatt, which is located near the COEX(world trade center) in Seoul.
The COEX re-opened after renovations in November of 2014 and as part of the renovations; they added a City Airport Terminal where travelers can check-in for flights with certain carriers.
I thought I try it out since Korean Air is one of the carriers with check-in counters at the City Airport and I was flying onward to Ho Chi Min City on Korean Air.
Originally, I had planned to walk to the City Airport Terminal because I packed light for this trip, but the front desk manager insisted I take him up on his complimentary taxi offer after a snafu when his hotel maintenance worker entered my room while I had the privacy light on.
So I took his offer and hopped in the taxi for the 10-minute ride. I think it would have taken me the same amount of time if I had walked since there was a bit of traffic.
CITY AIRPORT TERMINAL
I arrived at the check-in counters where I was greeted to an array of manned check-in counters with virtually no-lines.
The check-in agent asked me if I had any bags to which I replied "no." I then asked her how long it would take for me to get to the airport from here and she replied about an hour and half. She also advised me that I could clear immigration here at the City Airport Terminal and proceed to the "diplomat and crew line" for security and immigration at Incheon Airport.
I then proceeded downstairs where I purchased my bus ticket to Incheon Airport for 16,000 KRW. There's also a bus to the other airport(Gimpo) so I wouldn't want to confuse that one.
After I bought my ticket, I cleared immigration at the City Airport Terminal, which again there was no queue.
BUS RIDE TO INCHEON
The bus was quite comfortable with spacious 2-1 seating and more than ample leg room for Western framed visitors. The entire 1 hour and 20 minute ride was uneventful. Either the "diplomat and crew line" for security and immigration had no lines at all when I arrived at the airport.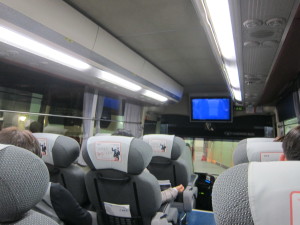 Presumably, if you're against taking public transport, you can probably check-in and drop your bags off and take your own taxi while still gaining access to the "diplomat and crew line."
FINAL THOUGHTS
The biggest convenience was not only the short lines, but also being able to use "diplomat and crew" lines for both security and immigration. This benefit is especially useful because Korean Air or Asiana doesn't provide any kind of dedicated security line or "fast track" immigration lines for passengers booked in premium class cabins. I would definitely use this City Airport Terminal again.
In general, city check-ins for flights is a great idea. I wish more airlines did this. I think the only other time I've experienced an airline with a check-in counter in the city center was with Malaysian Airlines. I clearly remember dropping off my checked luggage at KL Central Station and taking the Express Rail Link to the airport where I then proceeded to security and immigration.