Of all the places I've been in the world, I am most often asked about my trip to North Korea. Common belief is that Americans are not allowed to visit. This is not true. Though the US State Department strongly suggests that you don't.
My fascination with the place started with a short three day stopover in Seoul which included a full day tour to the DMZ, organized by the U.S.O.  The trip included many interesting stops, but I was most fascinated by our visit to the JSA (Joint Security Area) an area we were only allowed to go to after signing a waiver and with the escort of armed U.S. soldiers.
A trip to North Korea is relatively easy to arrange.  There are a handful of agencies that organize them, and you can go with a group or even arrange a private tour.  Given my schedule and time constraints,  I opted for a three day group tour with Koryo (www.koryotours.com.)  I had booked in January, and by April, due to the annual joint military drills performed by the US and S. Korea, relations were uh, strained, to say the least.  Even though  threats were flying, at the encouragement of Koryo who assured all in the group that all would be well, I decided to go anyway.
Koryo Tours is located in Beijing, one of the few places Air Koryo, (North Korea's state airline) flies.  I arrived a couple days early, in order to attend the one hour orientation the day before we departed.  I was one of eight Americans on the tour (all expats, living in Asia, however) The rest were mostly European, Canadian and a few Chinese – 23 total in our group.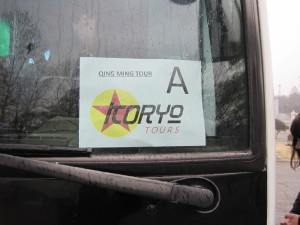 I had already devoured every piece of information I could on North Korea, so I wasn't surprised to be told that we were only allowed to see and do what  our government minders said we could.  We would stay at the Yanggakdo hotel – a property located on an island in the middle of the Daedong river (affectionately called Alcatraz) and would have two government minders with us at all times (two because one needs to watch the other…)  No pictures without permission (none at all of military personnel or equipment,) no wandering off by ourselves, no sensitive political comments or questions, etc.  etc.  There would be no cell phone service and no internet access during our visit.  Our Koryo guides were hopeful that once our minders warmed to us, they would loosen up and we would be allowed more access to the people / children.   At the end of it all, we were told, we would have more questions than answers.
After collecting our boarding passes, we headed to the gate to find our Russian Tupolev passenger jet waiting for us.  I had been so preoccupied at check in, I made the rookie mistake of not asking for a window or aisle, and found my self in a middle seat.
Once on board, I took out my camera to get a few pictures of the interior.  But after only a couple of shots,  I was quickly reprimanded by a very stern and scary looking white-gloved flight attendant, so I happily put it away.
I'm not going to lie, I was a bit anxious on this flight.  Not only was I flying on a Russian made, North Korean owned and operated aircraft, but I was seated next to an older gentleman to my right, who was clearly  North Korean (as evidenced by the lapel pins he was wearing – images of the great leaders.)   And tensions between our two countries were heightened, to say the least.  Eventually, he leaned over and asked me where I was from  – and  I could not manage an answer.  Luckily, to my left was another American from my group who provided him with the information he desired.
The flight from PEK international airport is a short 90 minutes, though the cabin was unbearably hot, and there was no relief from the blaring overhead monitors which were showing a very loud propaganda film throughout.   Reading materials were also handed out – in English.  I guess they knew we were coming.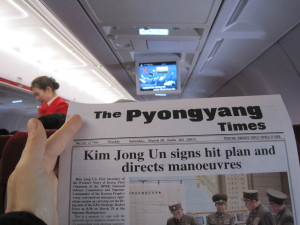 As I gathered my papers and prepared to stow them, I was reminded of the warning we had received at orientation to neither crease nor destroy any materials with pictures of any of the Dear Leaders on them, a punishable offense in North Korea.  We also received  meal service.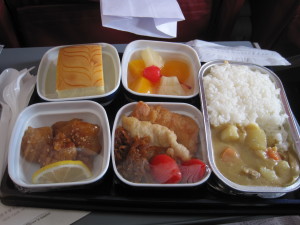 The immigration process at  Pyongyang Sunan International Airport was surprisingly uneventful.  Koryo Tours had arranged our visas on separate documentation, so there were no stamps placed in our passports.  Later, we were asked to surrender our passports so that exit visas could be processed, which was slightly unsettling.
We were soon after  introduced to our two government minders (Miss Pong and Mr. Lin) and loaded on to buses.   Though each of us was hesitant to start snapping photos, we were told we could take any shots we wanted from the bus.
Our first stop was Kim Il-sung Square, and despite the images we are consistently shown by the media, it was full of rollerblading children, not tanks.  We were allowed to wander around, and a few people in the group interacted with the children.  They loved our digital cameras.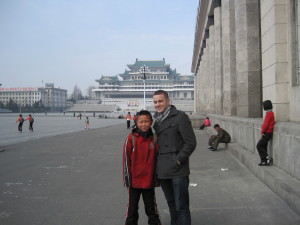 After, we headed to the hotel for check in formalities, and a group dinner.
The Yanggakdo hotel, is the perfect DPRK tourist hotel.  With its isolated location and 1980's era decor, it immediately feels creepy.  Rooms are clean, yet clearly haven't been updated since the day the doors opened for business.  Hallways are dark, elevators slow and creaky, and you just can't shake the feeling that you are constantly being watched.  There is a bar, a swimming pool, spa, casino and several restaurants.
We weren't allowed to leave the hotel without an escort, so most of the group stayed up late the first night, drinking tea and beer in the lobby bar with our two government minders, who were surprisingly very warm and friendly.  Everything transacts in euros, dollars or RMB and it's expensive. It seemed like we were the only ones in the 47 story building at that time, so except for a few Chinese businessmen in the Casino, nothing was very lively.  There were functioning TVs in the rooms which surprisingly had access to BBC news – and the 24/7 coverage of the crisis between my home country, and the country I was currently in.
Meals were sparse, though adequate, mostly traditional Korean style, always served with rice.
One night we were taken to a traditional Korean barbecue.  Our hosts later performed traditional Korean songs and dances for us.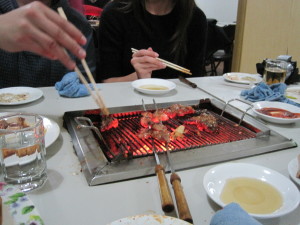 When driving around the capital city, one immediately notices that there are no store fronts – anywhere.  Nor was there much traffic (yet lots of 'traffic girls'.)  There are also minivans with huge speakers loaded in them driving around endlessly, blasting all sorts of propaganda.   It's everywhere; posters, murals, movies, videos, newspapers, magazines, and as we saw in just about every room we entered, on televisions 'gifted' to citizens broadcasting either propaganda, state sanctioned news, or messages from The Great Leader.
Due to the size of our tour, we were split into two separate groups.  Our guides never left us and the itinerary was well staged and perfectly timed.  Suffice to say, we saw what our hosts wanted us to see, when they wanted us to see it.  Which is exactly what was expected.
A ride in the extremely deep subway (serving as a dual purpose bomb shelter, if needed…)  allowed us our first chance to truly rub elbows with the locals -though interaction was difficult with the language barrier and constant propaganda playing from loudspeakers everywhere.
The two stations we saw were ornately decorated with beautiful mosaics, marble and chandeliers.  And of course, there were propaganda filled newspapers and loud speakers – even on the German made subway cars.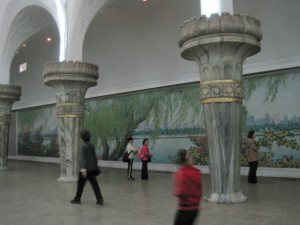 As time progressed, and our minders became less guarded,  it became a bit easier to ask somewhat sensitive questions.  Which isn't to say we ever got straight or even truthful answers, just answers.  Eventually  someone delicately posed the question as to where residents go to buy food – we hadn't seen any markets or stores of any kind.  Miss Pang told us that her work compensation is partially paid in rice and other things like vegetables are purchased in the basement of her apartment building once every two weeks.  (NOTE: There is apparently one 'supermarket' in Pyongyang, but its mostly for show.)
We made several stops to purchase souvenirs, mostly books, stamps, postcards, pins, cook books, posters and other exorbitantly priced trinkets.  This is a postcard I picked up in one of the shops!
We ended the very long day with a trip to a bowling alley – which was another chance to truly mingle with the locals, so we thought.  No one really talked to us, and after we left, we wondered if those that did were specifically told to do so…hmmm…..
We were also taken to a bar for beers and tea, though it was clearly made for tourists and not for North Koreans.  There were no signs out front, consistent with every other place we had seen in the city.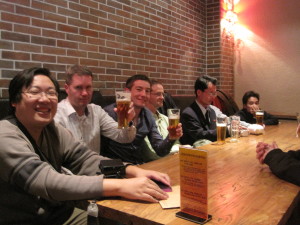 We stepped out to a fully illuminated Juche Tower, which was in all likelihood, lit up for our benefit.  Later at the hotel, I looked out the window of my 43rd floor room at the city to see an almost completely dark Pyongyang.
We started our final day in Pyongyang boarding buses that would eventually take us back to the airport for our flight back to Beijing.  Once there, customs was again painless and though some in our group had phones briefly confiscated and searched, for the most part everyone made it through without incident.  I would later learn that others (Americans) on different tours had a very different experiences (bags being searched, laptops and cameras confiscated and reviewed, hostile immigration officers, etc.)  It may well have been because some of those tours had journalists in them, though I think we just got lucky.
I took my middle seat (again,) newspapers were  distributed and after a short safety video, we were shown a  documentary about the  Kim Il-sung Orchid, a flower specially created in The Great One's honor.   This went on for the entire 1.5 hour flight, with no option not to listen (no headsets.)  I too wouldn't have thought it possible to create a 1.5+ hour video about a single flower (it was still running as we deplaned,) but I am now a believer.
I was feeling a bit more bold on the return flight, so managed to take a few more pictures of the interior and inedible meal service.
If you are thinking about spicing up you travels with a visit to the DPRK, there are plenty of legitimate tour companies that will take you there.   Do your research, go with a reputable organization, and be prepared to be on your best behavior.  It's a trip you won't soon forget and I guarantee you will come back with more questions than  answers.