[Update this redemption is no longer possible ANA updated their award chart to be zone based]
I'm going to be in Sydney, Australia later this year and planning to go to New Zealand for the great walks New Zealand has to offer. Unfortunately, these walks are on scattered between the North and South Island. The best way to travel between the two islands is to fly if you're on a limited schedule.
Naturally, the first inclination is to burn 35k United miles for a round trip award since New Zealand is a Star Alliance Partner. United allows one-stop over on round trip award tickets. This would have done the job, but there are more efficient ways to go about it.
For the time being, the ANA Mileage Club(an American Express Membership Rewards Transfer Partner)chart allows award tickets to be priced on the number of flown miles. Another words, the mile required for redemption is dependent upon the distance between airports.
To efficiently put this to use, I needed to create an itinerary with little backtracking as possible otherwise the flown miles added up leading to higher redemption rates. The best part about the ANA mileage club is they allow three stopovers, which is perfect when I want to visit multiple cities within a country.
MY ITINEARY DETAILS
I booked a flight from Sydney to Taupo via Auckland. Taupo is where I would stay for a few nights and do the Tongariro Apline Crossing. For those that are unfamiliar, Mount Ngauruhoe in Tongariro National Park was the inspiration for Mt Doom in the movie Lord of the Rings.
Afterwards, I am backtracking to Auckland to fly to Queentown.  I'm going most of my time in Queenstown for the Milford, Kepler, and Routeburn tracks. Finally, I would return to Sydney via Christchurch.
The total distance flown for all theses segments is 3,798 miles, which corresponds to the 2001 – 4000 distance tier requiring 22,000 miles
Most of the short haul NZ flights are single cabin aircrafts so I have no other choice other than economy. All the flights are during the day and short enough that economy class is fine for me.
Taxes and fees are only $120.30 since ANA doesn't impose fuel surcharges with Air New Zealand.
A few things to keep in mind when using ANA miles:
The country you start your journey from must be the country you end your journey in. It doesn't have to end in the same city as long as it's the same country. This is why I couldn't use ANA miles last November when I landed in Auckland and needed to go to Sydney to catch my open-jaw return on Virgin Australia. Instead I had to book an open-jaw itinerary with United miles.
Transfer times from American Express Membership points to ANA Mileage Club takes 3 days. I started my transfer on Thursday night and the points hit my ANA account Sunday.
ANA will impose a new zone based award chart on April 12th, 2015 according to this Flyertalk thread. I don't know how the routing rule will change since most of the details are in Japanese.
HOW TO BOOK THIS
This can all be booked online, which waives the $25 telephone-booking fee. You can call into a phone agent and spoon-feed all the flight details you find on ANA. I found the website easy to navigate and book by clicking the "Star Alliance Member Airlines."
Then navigate to "Flight Search"
Finally, enter in all the dates, arrival, and departure cities.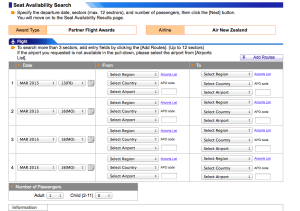 The ticket didn't show the taxes/fees, but I still entered my credit card number to ticket it because I confirmed with an ANA agent the approximate taxes/fees for a similar itinerary on Air New Zealand prior to making this one.
Once I entered my credit card details and preceded, the ticketing process was not complete despite having a reservation number.
I called the ANA Mileage club service center to inquiry about the taxes/fees, the agent politely stated that it will take a day to calculate the taxes and someone would call me back. The next day I received a phone call and the agent confirmed the taxes/fees and asked whether I wanted to proceed with the ticketing. I concurred with the amount and waiting on the etkt notification e-mail.
Currently, ANA mileage club is a great way to redeem for short haul round trips in economy as shown by this example. The new award chart is going to kick in April 12th, 2015 where the award chart is based on zones, which is how most frequent flyer mile programs implement redemption rates. Now that my flights are done, I can start reserving space in the huts along the great walks in New Zealand.