The Fairmont Mara Safari Club had been on my radar for a very long time.  My previous ten day safari n Tanzania did not include Kenya, nor did it include any stays in luxury tents.  I always regretted not working in a visit.  When the opportunity arose to meet up with Mike in Mauritius for a few days, I decided to see if we could work in a trip.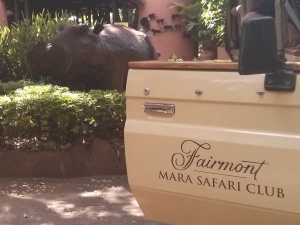 Getting to this property is neither effortless, nor cheap.  But to manage the costs, both Mike and I applied for the Fairmont Visa in advance of our departure, and were able to redeem for free nights to cover the cost of the lodging which was around $650 per night.  Guests are also subject to a compulsory $80 per person, per day game reserve fee, as well as an $80 per person per day meal plan, to which we were able to apply our $50 per day meal credit (also part of the Visa sign up bonus.)
Bush flights to the remote dirt airstrip from Wilson Nairobi airport cost around $315 RT per person, though we could have also chosen a six hour overland transfer for around $80 each way.  I recommend the flight as its an experience in and of itself.
The all luxury tent hotel is located in the middle of the Masai Mara game reserve and is surrounded by an electrified fence on one side, and a the Mara River on the other.  Aside from twice daily game drives and a few other activities, prepare to settle in, as there are no other opportunities to 'explore' outside the electrified gates without armed escort.  You likely won't want to leave, since the property is beautiful and there is plenty to keep oneself occupied.
The tents are well appointed, with modern fixtures, furniture, and even indoor plumbing!  If you're itching to go camping, this is the way to do it!
Each stand alone tent is perched on its own section of the bank of the river, with hippos and alligators frolicking below.
I spent hours on our private balcony being entertained by these creatures.
There are fifty tents total, the majority decorated and designed exactly the same, with the exception of tents 25-50 which have outdoor showers.  There is also one 'suite' which consists of a living room with two sleeper tents attached on either side of it.  It was empty when we were there, so I snuck a peek.
I specifically requested to be near the hippos, so our tent (15) did not have an outdoor shower, though we did have the constant companionship of the hippos!  It's also worth noting that there is no way to lock your tent, but there is a small safe inside to lock up any valuables.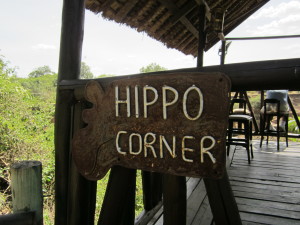 Meal plans are compulsory, though I arrived the afternoon of our first day a bit under the weather, so I was not charged for that day since I didn't eat.  The meal plan covers breakfast, lunch and dinner, and with the exception of a couple of buffet lunches, it's a sit down meal with fixed menu.
The food quality was not that great, and I would have to say that it was the weakest part of our stay.
Upon arrival, each guest is assigned a staff member to remain at their service for the duration of the stay. Our room attendant, waiter and safari guide really made the effort to interact with and get to know us and our preferences throughout the stay.  Beyond the first request, I never went without my beloved tea!
There are a variety of activities guests can choose to participate in throughout the day, from hot air balloon rides to traditional safari game drives, which while not cheap, are spectacular.
I chose to start off with a morning bush walk, which would require the attendance of three separate escorts, a naturalist, an armed guard, and a Masai warrior to guide us.  The novelty of being able to walk outside of the electrified gates and freely amongst the wildlife  with an authentic Masai tribesman was pretty unique, though the one hour walk mostly focused on medicinal plants and not much on animals.  Still worth it for the uniqueness of the experience at $25 pp.
The first of the daily game drives leaves early in the morning, the second in the late afternoon, when the temperature goes down and the animals are most active.  I chose to take an afternoon drive.  It did not disappoint.
We even got to get up close and personal with two endangered white rhinos, which are guarded 24/7 by armed park rangers.
The experience was spectacular, well worth the $60 price tag.   We finished the day with a beautiful sunset, and headed back to the lodge.
Each night after the evening game drive and before dinner, there is a cultural event of some fashion ranging from local Masai lectures to traditional dance, both of which we experienced on our three night stay.
African safaris can be expensive and exhausting.  If you have always wanted to do a luxury 'glamping' safari, but couldn't justify spending thousands of dollars to do it, this might be the perfect compromise.  The game drives were certainly on par with the ones I experienced on my ten day Tanzania Safari, and I'm pretty sure this property will be like nothing you've ever experienced before.  It certainly was for me!