What are Minimum Connect Times(MCT)
Airports have a published minimum connect times to allow passengers enough time between connecting flights. If you're redeeming miles or buying a ticket through a booking engine, the computer system will automatically build this connection time for you. If you're trying to redeem miles on the phone with an agent by providing flight numbers and dates, the computer system will kick back any invalid connection times, so an agent can't override the minimum connection times.
The only way you can violate this is when you have two separate itineraries. For example, if you're redeeming a set miles from a gateway city to your destination and buying a separate paid fare to reposition to that gateway city. You would have two separate itineraries. If you're in this situation, you want to be sure you have at least the MCT or more at your connecting airport.
How do you find the MCT?
There's probably a few ways to find this information, but this is the way I look it up.
Sign up for the basic expertflyer subscription. I have access to the premium version, which gives me access to everything. The free version doesn't provide access to travel information, but the $5.99/month for the basic version is well worth the cost. Expertflyer is extremely valuable in searching award seats on certain airlines, looking up travel information, and setting seat alerts.
To find the MCT:
1. Login in to experflyer(EF)
2. Navigate to the "travel information on the left hand side bar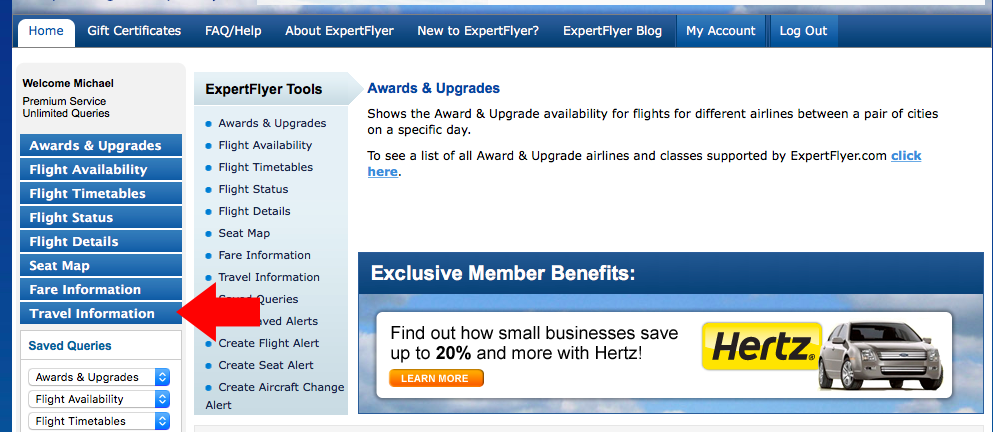 3. Click on the top tab "Min Connect Times" and enter the airport where you'll be connecting.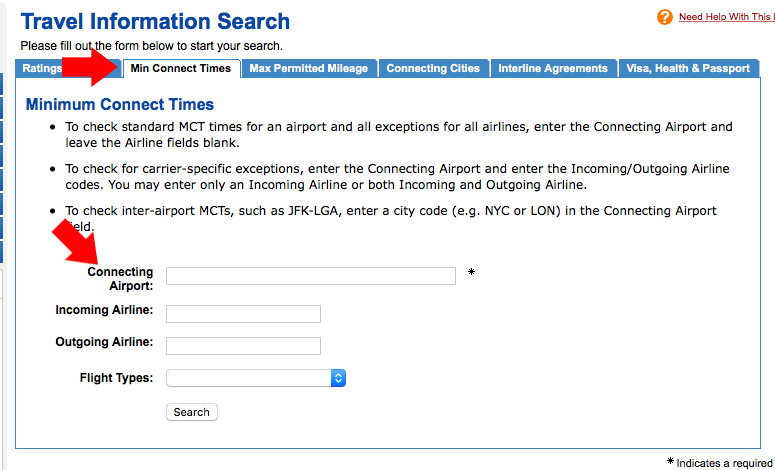 I used JFK airport as an example, you'll see the minimum connect times listed as 1.00, 1.15, 1.45, 2.00 respectively for D/D, D/I, I/D, and I/I.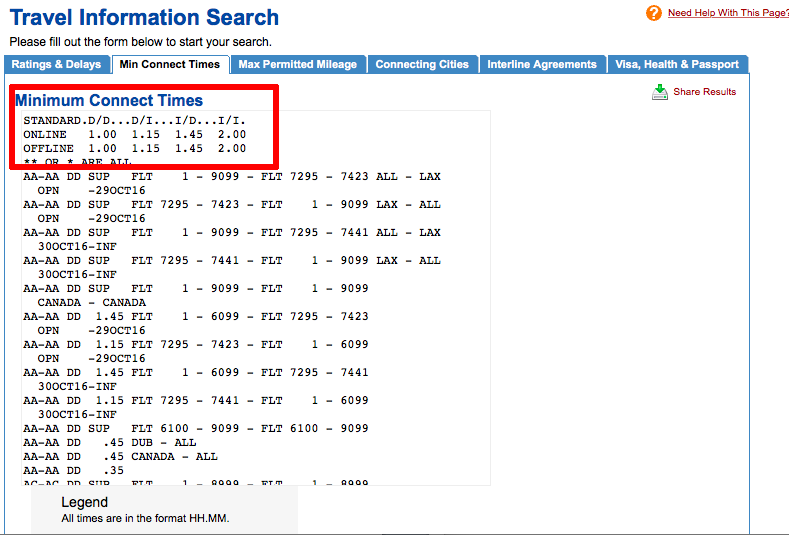 These are abbreviations for:
D/D – Domestic to Domestic
D/I – Domestic to International
I/D – International to Domestic
I/I – International to International
The format for the time is HH:MM.
If you're repositioning from else where in the country on a paid ticket to connect to an international award flight, you'll want at LEAST 1 hour and 15 minutes(D/I). That means in a perfect world where there's no delays, 1 hour and 15 minutes should be enough time to connect.
However, everything is not perfect, there's always the possibility of flight delays and what not, so it's advisable to build in a larger time connection window. There could be other situation where you're flying in on an out of alliance carrier say you're flying Jet Blue to JFK and flying out on Etihad, you'll want to factor in extra time to collect your bags at JFK(if you checked any bags) and transfer terminals to re-check in with your international carrier. If the connection is during the winter months where there could be weather related delays, it's advisable then to overnight at the airport.
If you noticed that coming off an international flight and connecting onwards to a domestic flight, you'll want to have at least 1 hour and 45 minutes(30 minutes more than the outbound). This is because, you'll have to clear passport control and customs.
Here's another MCT for Frankfurt Airport. I've had connections through this airport as short as 50 minutes, though there was no re-checking required, it was simply two segments on Lufthansa.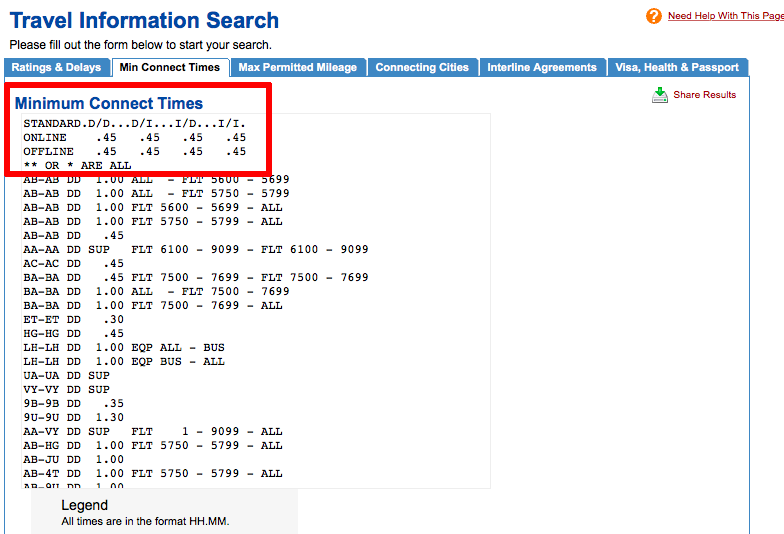 Final Thoughts
Safest thing to do is build in an overnight stop, but this adds the extra cost of a hotel. One could view the extra cost of the hotel as an insurance policy against any possible misconnects.
Also, the MCT is not a guideline on how much time to transfer between two airports such as EWR and JFK or DCA and IAD. It's simply the minimum amount of time between flights at an airport to make a valid connection on an itinerary.
I'm fortunate enough to live driving distance between NYC and BOS so I rarely ever have to reposition to a gateway city. On a few occasions, I did have to buy a separate repositioning ticket, but I always allowed about 4 hours of connection time.(It helps to have lounge access to pass the time.)
Another possible way to find the MCT is call an airline reservation agent because they would probably have access to this information.